About a year and a half ago I met some of the most fabulous women from across the country at a Jasmin Star workshop. Nervous and not knowing what to expect, Jasmin set up a Facebook page for us all to connect, and even though we didn't talk much at the workshop, we talked daily afterwards on the Facebook page; supporting each other, answering questions and uplifting one other. We kept joking about having a reunion but it never seemed to materialize. After months of everyone saying "we should do this," I finally said "We are doing this!" I asked the girls, "If I plan a shoot, who would come out? My house is open for anyone who would want to stay" And so it began… Arkansas (Whitney Bower Imaging), Connecticut (Brooke Allison Photography) and Los Angeles (Christina Dely Photography and Alisha Cryderman) all made their way down to San Diego and I contacted Krystel at Couture Events and the planning began!
Below is Krystel's Story of how to get this amazing look with all our vendors!
"Ever wanted a super Bohemian Chic wedding but didn't know how to create the look ? Well that's what were here for, Inspired by Pocahontas herself, we created a wedding that is any Bohemian girls dream! To get the Indian inspired look start with beauty: go for hair that is big, natural, wavy, and preferably with a braid! Make up you want to look natural yet gorgeous with a little flare to set you apart from the rest. Neutral tones; browns, beige's, greens are all good colors when it comes to your make up. Don't be afraid to add a little sparkle though, gold sparkles are a great accent to liven up your face! Jewlery is a must, and you can have so much fun with it. Braided headbands, feathers, fun bright colors, lots of statement necklaces, and bold earrings! When looking for tables and things of that nature you want to think rustic, rustic, rustic! Anything wood, brown, and well, rustic will work. For the ceremony we used the surroundings and had an old fence archway that was fabulous, and we used miss matched chairs for the guests!

Invitations, place cards, escort cards, menus, and guestbook is where you want to tie in the feathers! Bohemian is all about the feathers, and the more the better. Try using colors like the browns, beiges, and tans, and then throw a pop of turquoise or mauve in there! Teepee place cards are an absolute must and they make the table absolutely amazing! As for your tableware, this is where you get to use a pop of color since everything else is neautral .Another key ingredient to the Pocahontas inspired shoot was the Teepee itself, we filled it with flowers, and candles and it became the perfect getaway for the bride and groom or guests during the reception. We also decorated with dream catchers in different colors, sizes, and places!

Don't be afraid to make your wedding how you want it. If there is a will there is a way!
Many of the projects for this shoot were DIY but the cascading paper flowers was one of our favorites, its easy and make a big statement: http://www.ellinee.com/blog/paper-flower-backdrop-garland/"
Vendors:
Photographers: Bethann Greenberg Photography, Brooke Allison Photography, Christina Dely Photography, Alisha Cryderman, Whitney Bower Imaging
Coordination & Styling: Couture Events
Florist: Splendid Sentiments
Paper Products: Sweet Paper
Rentals: Powwow Vintage Rentals
Desserts: Michele Coulon Dessertier
Gown: Bliss Bride
Make up: 3 Ways Beautiful
Hair: Lotus Den Hair
Dinnerware & Glassware: Anthropologie
Jewlery: Anthropologie , Glamarella Junk
Oh Ya… We got featured on Green Wedding Shoes!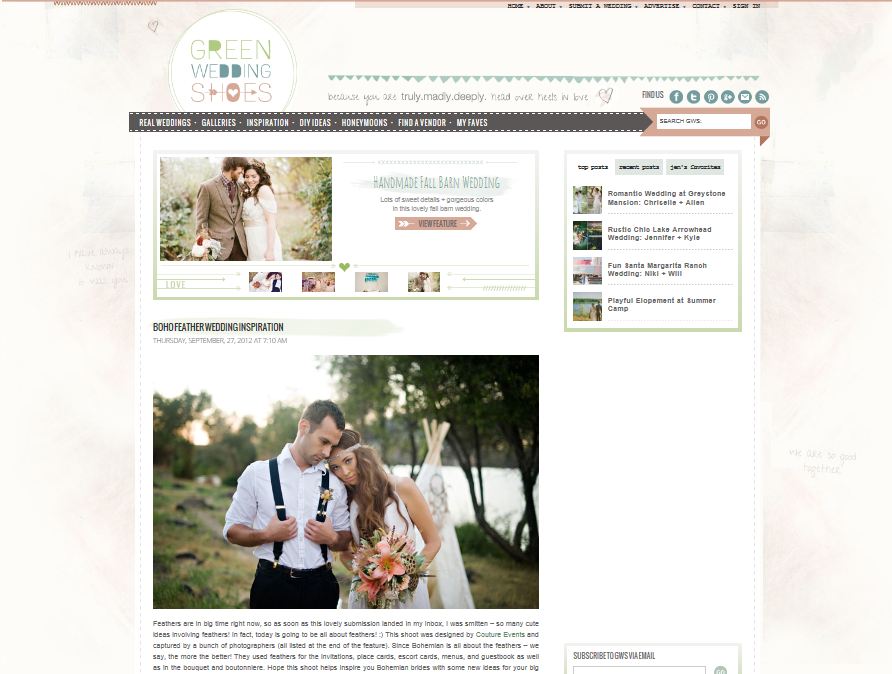 Below are all my favorites from the shoot with a few from each girl!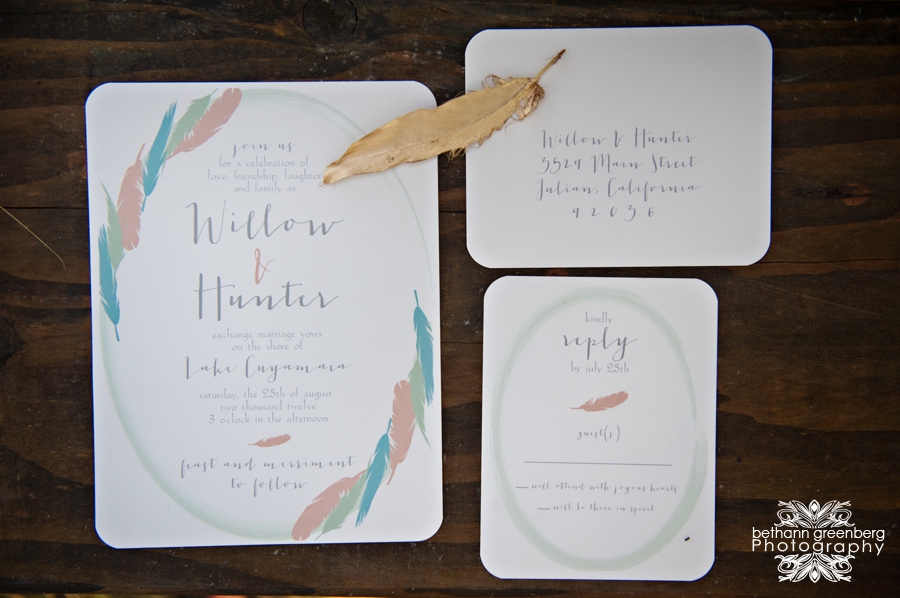 Love this one on the right that brooke shot! She is so good with details. Shooting with other photographers really inspires you to shoot differently!


I LOVE this shot Alisha took below!

Some awesome details by Brooke!

Love this shot by Whitney!
My angle on the left and Brookes on the right!
I love this shot by Christina!

Love the shot by Brooke on the right!